We're in the last few days of the six-month Special Enrollment Period (SEP). During the SEP, which was announced shortly after President Biden took office, consumers have had an opportunity to sign up for health coverage and, for those who qualify, take advantage of the enhanced premium tax credits under the American Rescue Plan Act. The SEP was set to end May 15, but CMS announced in March that it was being extended to the middle of August.
The goal of the SEP was to get more people insured, and it seems to have worked. On July 14, "the Centers for Medicare & Medicaid Services (CMS) released new enrollment reports showing more than two million people have signed up for health coverage during the Biden-Harris Administration's 2021 Special Enrollment Period (SEP)." And it's not over yet. There are still a few days left to get prospects enrolled. After that, they'll need to wait until the annual open enrollment period, which begins November 1.
CMS is counting on agents to step up during this last-minute push to get people signed up and, to help with those efforts, has created a Communications Toolkit that agents can use to promote the special enrollment opportunity.
The toolkit, which is an eight-page PDF document, includes links to testimonial videos, tips for discussing the coverage opportunity in your community, content for announcements about the SEP, and social media tools for agents who want to promote the opportunity online.
The three testimonials "feature stories of individuals who have found real savings on HealthCare.gov" and include an individual who found a zero-dollar premium plan, a recently-married couple hoping to start a family, and a business owner who pays less than $10 per month after the premium tax credit.
The discussion tips consist of a half-a-dozen bullet points that can help agents explain the opportunity and the importance of signing up for health coverage. For example:
right now – if someone received unemployment compensation for even one week in 2021 – they can get the maximum assistance possible at HealthCare.gov for the rest of the year. This means people who got unemployment are likely to find a plan for $0 a month and have very low deductibles and copays."
And if a tax filer in the household received unemployment compensation, then the whole household may be eligible for a tax credit that covers the entire premium cost for the benchmark Marketplace silver plan—regardless of the household's actual income amount. This includes households that, in the past, have not qualified for APTC due to income below 100% of the federal poverty line in states that did not expand Medicaid.
The "Content for Announcements" section of the toolkit is also a series of bullet-points that you can use when communicating the special enrollment opportunity to your clients and prospects. It's a "done-for-you" piece that you could easily paste into an email and send to your database. It would only take a few minutes and could result in some last-minute sales.
Finally, the social media section of the toolkit includes special messages and graphics specially designed for Facebook and Twitter. Here's an example: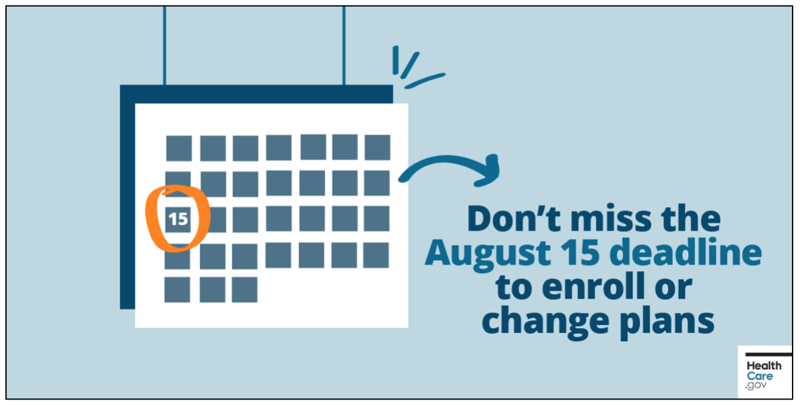 Whether you choose to use the Healthcare.gov marketing materials or decide to design your own, the time is NOW to reach out to your remaining individual prospects. It's a great opportunity to earn some additional commission and, more importantly, to help a few more people get health coverage.